The pathway design phase, which represents the backbone of our project, has been completed during the first year. We have now almost completed the first two phases of the project (in silico and in vitro) and we are moving towards the 3rd phase in vivo. We have first implemented the pathways in the bacteria E. coli using it as a platform for the pathway selection. This step is paving the way for the introduction of the most promising pathways into the final organisms: cyanobacteria and plants. Below you can see two of the selected pathway: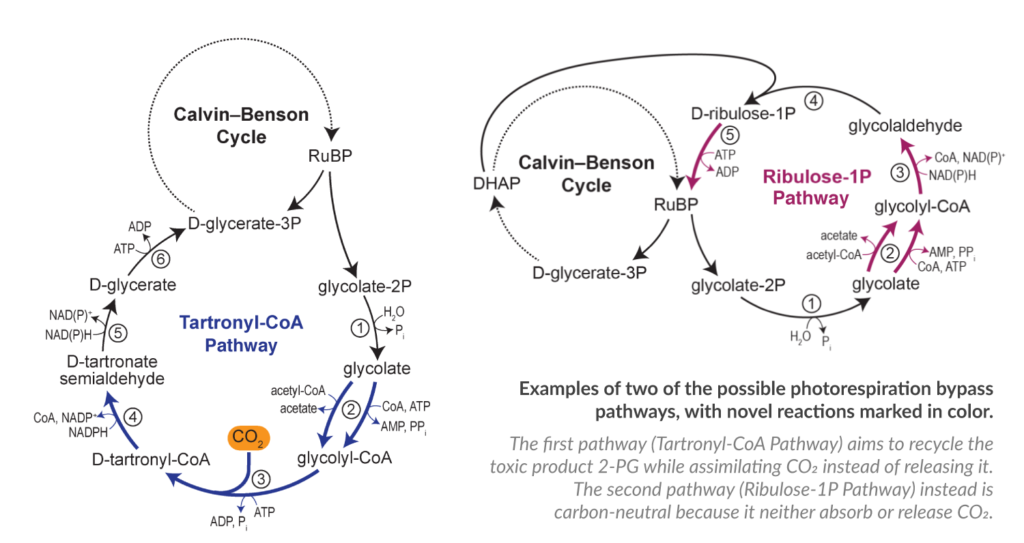 During the past year, the FutureAgriculture team have worked strongly on the carbon positive pathway which has the potential to increase plant yield by 20% according to the predictions.  We have identified and analysed in detail all the building blocks necessary to the pathway, which means the enzymes that perform the reactions.
The final selection of enzymes has been already tested within the in vitro plant metabolism and the outcomes have been very encouraging. We have the first proof of principle that at least in vitro the pathway directly improves CO2 fixation metabolism of the plant and that the pathway if transplanted in vivo, has the potential to positively affect plant growth.
The selected enzymes have been already passed to the partners at Evogene and Imperial College London to be tested in plants and cyanobacteria. Currently, the consortium is busy refining all the details to make sure that the enzymes can perform their function in vivo too. We are all eager to see the results in vivo because there can always be surprises – that's why it's important to go back and forth between models and the experiments and we will refine the final pathway according to the results in vivo.
Our results in a nutshell: